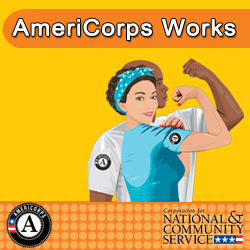 March 9th to 13th is AmeriCorps Week. The goal of AmeriCorps Week is to recognize the commitment of AmeriCorps members and alums by highlighting the impact AmeriCorps has everyday. My first two jobs out of college were in AmeriCorps totaling about a year and a half of service.
As a proud AmeriCorps alum, I figured I should celebrate. What better a way than to make a list!
Why I'm Thankful for My AmeriCorps Service:
I got to serve my community through two local nonprofits

I learned how two organizations were structured and started to meet local nonprofit leaders, volunteers, and Board members

Each role helped me to develop my creativity and resourcefulness (AmeriCorps is a grant-based program so funds are not abundant)

I was able to experience new things like a Board meeting and assisting with a grant proposal and presentation

After my service ended, I received scholarship funds that helped offset the cost of grad school

I learned to manage on a (super) small budget and discovered how to apply for food assistance

I met other awesome AmeriCorps members and attended some training sessions with them as well as the Iowa Nonprofit Summit

I celebrated a few Days of Service each year by planning/participating in service projects

My service confirmed that I'm more motivated by feeling like I'm making a difference than a salary
AmeriCorps Fast Facts:
900,000: Number of individuals who have served as AmeriCorps members since 1994.
1.2 Billion: Total number of hours served by AmeriCorps members.
$2.8 Billion: Total amount of Segal AmeriCorps Education Awards earned by AmeriCorps members.
4 Million: Number of community volunteers managed or mobilized by AmeriCorps members in 2014.
$625 million: Amount of resources from private, philanthropic, and other sources leveraged by AmeriCorps programs each year.
25,000: Number of sites that AmeriCorps members serve at each year.
(
source)